И снова здравствуйте, или напоминалка о себе :)))
8
Вот и настала пора отпусков! Наконец-то можно добраться до книг покрывшихся, непростительным слоем пыли и немного расслабиться...Ан, нет, нельзя расслабляться, так и язык за лето забыть можно) Изначально, данную зарисовку на книгу не планировала публиковать, писала так сказать, для своего удовольствия. Не думаю, что ее можно отнести к полноценной рецензии, поэтому публикую в блоге. Книгу читала на английском языке, поэтому и обзор написан на иностранном языке) В общем, welcome!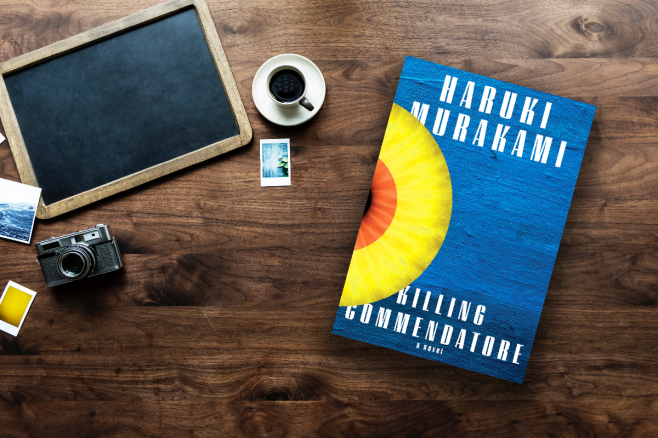 About a month ago I happened to spot an article with the name of my favorite writer in the heading. It is not a surprise that at that very moment I placed myself comfortably on the sofa and started reading. I think I have to present the name of the author first as well as his book to make it clear what exactly I am talking about. Besides his name is not a secret and his books are loved by a number of people throughout the world. So, the man I am talking about right now is Haruki Murakami. The first time I heard about this writer took place 7 or 8 years ago. It was a friend of mine who kindly told me about this talented writer. We used to talk about books a lot in the time we both attended a driving course. Basically, it was the place where we had met each other for the first time and we are still good friends. Therefore, following her advice, I chose my first Murakami's book, which was called "A Wild sheep Chase". Actually, it is one of the best books I have ever read. Although I cannot qualify it as high literature of all the times there is still something very special, captivating and amazing about his books. I was over the moon that I had this author to get acquainted with (not in person, of course) and so many of his books to read. Strangely enough, I hadn't heard anything about him before my friend shed the light on his existence.
Anyway, I had better get back to my topic and tell you what I was intending to, otherwise I will talk about Haruki's books for ages. So, as I said before I had placed myself on the sofa and started to read an article devoted to this writer's new book called "Killing the Commendatore". It turned out to be so gripping that I couldn't help it but just sit there and read. The story tells readers about an artist in his mid-thirties who has just split up with his wife, left the house they used to share and settled down faraway on top of the mountain in a house of famous artist. To be honest I am that kind of person who loves the stories about some mysterious things happening in huge old houses with creaky stairs and an ancient chest wrapped in a web hidden deep in the attic. So, a similar thing happened to our protagonist when he had moved to his new home. He happened to find an unknown but certainly very valuable painting that was secretly stored in the attic of the house owner. This discovery becomes a starting point of the following chain of events in which our character gets involved. One of the remarkable things that happened to the protagonist is a significant meeting with a mysterious guy living in the neighborhood. Who in his turn was ready to shell out a big amount of money in order to make our protagonist paint his portrait. Intriguing, right? Indeed. It's just a half of the whole story.
I won't go into a detail about the plot of the book or it's charecters, you must find it out by yourself. It's such a pleasure to immerse yourself in this story, I simply have no right to deprive you of getting this joy. I just want to describe the feeling that I got while I was reading the book. Every time I am deeply absorbed in Murakami's book I can feel peace and quiet. It is as if I am slowly drifting on a calm river and enjoying the sights surrounding me on either side. But suddenly I realise that the views have changed and become bizarre and hard to explain. A minute ago, everything was so clear and coherent and BANG! Now it looks vague and unexplainable.
I was thinking about the true meaning of this novel a lot. But finally ended up with nothing determined. There are some gaps that I wasn't be able to fulfil. Shall I leave them as they are? Perhaps some things must be left unexplainable and you shouldn't dig so far to know the truth.
Right, I should stop there, I think. If you are a fan of this author, I would highly recommend it to you. It's definitely worth reading.
P.S. Who knows what is the problem with women in Murakami's books? Have you ever noticed how he tends to describe them there? It seems that women cannot be fully beautiful in his books. He depicts them as, for example: "She wasn't beautiful to turn other heads but she had ears of a very lovely shape", so, yeah, that kind of thing. And it takes place in his book very frequently I must admit. This is ridiculous! Dear, Mr. Murakami, your books are awesome, but it's time you did something about women's appearance. Hmmmm, maybe he tries to avoid stereotypes? What do you think?
Авторизация